A research group based at the University of Alberta is hosting two students from Old Scona High School for a national competition in biotechnology.
Darren Li and Dale Chen-Song, both 18 years old and in grade 12, are participating in the Sanofi Biogenius Canada competition, which pairs high school students interested in biotechnology with mentors already working in the field to work on projects that will be presented provincially and nationally.
The students are being mentored by Dr. Randall Weselake, the Scientific Director of Phytola, a research group at the University of Alberta's Faculty of Agricultural, Life & Environmental Sciences focused on developing value-added oilseed products for nutritional and industrial markets. They have been working in Phytola's lab since December 2014 and will complete their work before they present their findings at the Sanofi Biogenius Canada Competition April 25 to 26 in Calgary.
David Lloyd, Sanofi Biogenius Canada's Regional Coordinator for Alberta, explains that of the 34 different projects he evaluated and approved for the challenge, he was excited about the proposals submitted by Li and Chen.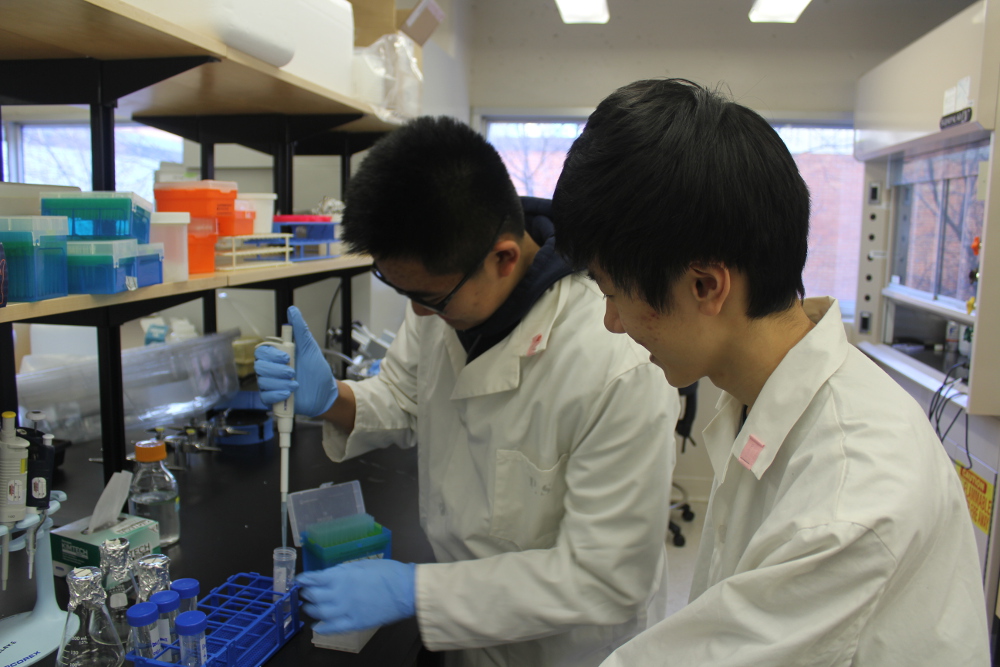 "Li and Chen-Song really went one step above," Lloyd explained. "Their project is one of the only looking at agriculture in biotech, as opposed to pharmaceuticals. They were able to find something they were passionate about."
For Li and Chen-Song, the experience of working in Phytola's state-of-the-art research lab at the University of Alberta after school and on the weekends is a valuable jumping off point for their future careers.
"We have very limited lab equipment at our school, so here we get to learn how to operate in the lab," said Chen-Song, whose project involves isolating canola enzymes to improve oil yields. "The biggest benefit is definitely learning how to apply our knowledge in a real setting."
Li and Chen-Song found out about the competition through a friend who participated last year and from a presentation made by Lloyd at their school.
"Twenty kids from our school applied," explained Li, whose project involves isolating enzymes in flax. "We're pretty lucky that we were selected and placed with Phytola."
Weselake points out that Li and Chen-Song's involvement with Phytola couldn't come at a better time. "We are just starting to investigate these two new enzyme categories in oil formation," said Weselake. "Li and Chen-Song's contributions to these projects will be critical to moving this study forward. This is a win-win situation for both the high school students and for Phytola."
The Faculty feels fortunate as well to have Li and Chen-Song as part of its current research team. Faculty Dean Stanford Blade points out that early exposure to lab work is critical for high performing high school students who may not see agricultural science as a viable career path.
"There are a lot of challenging intellectual problems in agricultural science and it's great to get students in on the ground floor," said Blade.
Just like Li and Chen-Song, Blade has high hopes for what will come out of these projects.
"I've actually judged a lot of science fairs similar to the Sanofi Biogenius Challenge and I'm always impressed with the level of creativity and how students are willing to jump in with both feet and put themselves out there," said Blade. "It's great to have young people at the onset of their careers. A high-performance lab like Phytola's is the ideal place for these students to be."